These cute owls can be used as decorations or favors at an owl-themed birthday party, as Valentine's, OR simply as fun girlfriend gifts (see below for optional sayings).
There are a lot of different pillow box patterns on the web,
but I used this one from Janna Wilson:
Print the pattern onto colored cardstock:
Cut out the pattern. (Optional: Use a circle punch for the half circle on the end.) Score the fold lines with a scoring tool or use the dull end of a spoon/fork to trace along the lines.
Fold the pattern and tape/glue the flap to the inside of the box. Gently bend in the curved ends. To decorate your owl, punch paper circles in a coordinating pattern and layer them on the box for feathers. The feet are small ovals (or you could use an upside down heart). The beak is a small triangle. Layer larger circles for the eyes. Optional: If you want wings, cut a large oval in half (personal preference, they are cute either way).
Just fill them with candy/treats and tissue paper and you're done!
Wise Words (sing along with the songs):
For your Bible Study:
OWL Follow Him (from Sister Act)
For your girlfriend who is having a bad day/week/month:
OWL Stand By You (The Pretenders/Rod Stewart)
OWL Be There For You (Theme song from "Friends")
OWL Survive (hey, hey) (Gloria Gaynor)
For your son to give to his sweetie:
OWL Always Love You! (Whitney Houston/Dolly Parton)
For someone who is moving away:
OWL Remember You! (Sarah McLachlan)
Misc.
OWL Be A Monkey's Uncle (for a new niece or nephew?)
You're a Hoot!
Whoo Loves Ya Baby?
OWL Miss You
From OWL of us!
Have fun! Let me know if you think of other ideas, because OWL never get tired of this stuff!
Linking to:
Adorned From Above
,
Sewlicious Home Decor
,
Kim's Kandy Kreations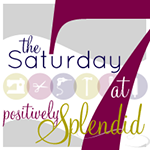 Bowdabrablog.com Linky Party